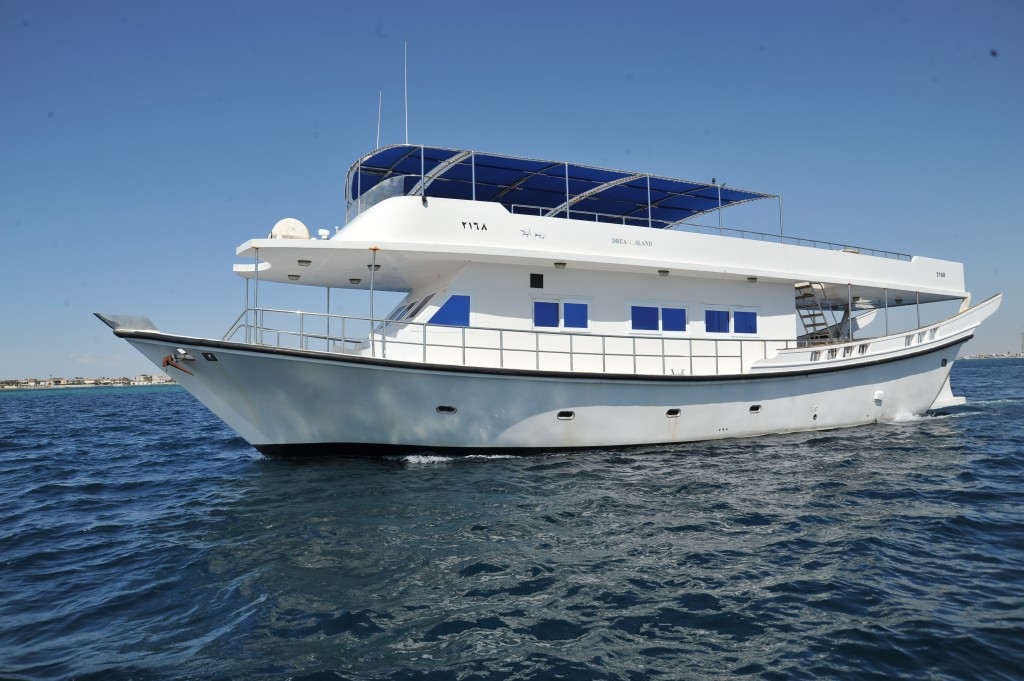 Dream Island is the third of Al Ahlam Marine Tourism Group of Companies liveaboard dive boats to be operating in Saudi Arabian waters from April 2007, meeting all international classifications and standards, equipped for long range dive exploration, Dream Island along with her partner vessels Dream Voyager and Dream Master will be exploring areas and sites never before dived from our Resort Bases at Jeddah, Al Lith, Yanbu and our soon to be completed resort in Jazan.
Island has been re-designed from the original Dhow specifications to be used for divers to cater to the International and local expatriate community. The diving Dream Island has to offer is in most areas virgin diving, we are only now venturing to the Farasan Banks, what can be expected in the Central and Southern Farasan Banks not to mention on the Northern Reefs can only be imagined. You can speak to divers who may have dived one of the areas, you will be unlikely to encounter any divers who have dived in all of the areas in which we are offering diving. Two large dive ladders conveniently submerged from the dive platform make it possible, after handing up your fins to climb on board wearing your dive gear, fresh water wash down; camera bucket and toilet are also situated on the dive and gear deck. Our Philippine Chef will ensure you are treated to good wholesome food throughout your stay with us all of our vessels carry trawling rods which here in Saudi Arabia guarantee fresh fish dishes daily. Our dishes served will be of Arabic, European and Asian style. After and between your dives watch a movie, relax on the fly bridge deck, sun bathe on the bow. We here at Al-Ahlam Marina (Dream Divers) aim to make your stay with us whether you are one of our International, National or local guests one of the most memorable dive adventures you shall ever have.
| | |
| --- | --- |
| Year built: | 2007                       Type: advanced composite fiber |
| Length: | 26.3 3mt (86.79 ft)     Beam: 7.2 m (23.76 ft) |
| Draft:   | 2.35mt(7.7ft)           Speed: l5kts |
| Fuel capacity:  | 30 tons |
| Range: | 500 nautical miles |
| Tenders: | semi ridged 40hp 3.5 meters. |
| Oxygen: | extended range  DAN medical oxygen kit, first aid kit. |
| Life saving equip:  | 2 life rafts total capacity 80 persons, jackets adult and child also for 40 persons all meeting SOLAS convention rules and specifications, flares, smoke pots etc all international standard and approved rescue equipment on board. All crew trained in there use. |
| Accommodation: | one master with four bunks, five other amidships cabins with double bunks, giving a total accommodation package of 14 guests if required, on the lower accommodation deck there are three full bathrooms and in the lounge deck there is one full bathroom. |
| Crew: | six |
Propulsion:
2 x CAT 3406E rated 475hp each commercials.
Generators:
2 x John Deer 3OKva
Power:
22O volts, sockets two pin American round
Compressor:
one L&W electric silent filling eighteen tanks per hour, tanks are filled from your gear up location you need never change your tank; the crew will re-fill and wash down after every dive.
Tanks:
12 liter Aluminum yoke fitting we do not carry steel or DIN fitting tanks.
Air-conditioning:
fully air conditioned with individual control.
Fire fighting:
engine room and machinery space have auto and hand deployed Halon systems all other areas have hand held fire fighting bottles both dry powder and foam.
Entertainment:
29inch TV in lounge with music center, audio, CD and video player, reading library.
Other equipment:
bow thruster, water maker 225 liter per hour .
| | |
| --- | --- |
| Radar x 2: | Portable VHF |
| Hailer: | Thuraya Sat comm. Telephone |
| GPS: | Search and rescue transponder |
| VHFx2: | bow thruster, water maker 225 liter per hour |